The most advanced, yet simplest, battery state of charge meter currently available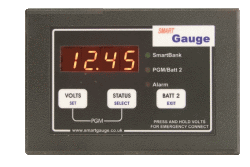 SmartGauge
battery monitor. Super simple installation, highly accurate state of charge meter. Cannot run out of synchronisation with the batteries. Volts display, Charge Status (percentage), user programmable alarm functions, interface to the
SmartBank
split charge control system and much, much more.
Key Benefits
Simple, very quick, 2 or 3 wire installation.
Suitable for 12 or 24 volt systems.
Shuntless design retains factory warranties.
Simple operation reduces training requirements.
Automatic self-setup and adjustment.
User programmable alarm output.
Technician's security lock.
Self compensation for battery ageing.
Interface to
SmartBank
split charge system.
General Description
Used with
SmartBank
,
SmartGauge
gives the user the most sophisticated, automatic split charge and battery monitoring system currently available.
Connection to
SmartBank
consists of plugging in an RJ11 type lead.
SmartGauge
automatically detects the correct type of
SmartBank
and in the case of
SmartBank Advanced
sets the split charge parameters for the selected battery type.