How to increase the charge voltage of your alternator on the cheap.
If your alternator charges at, say, 13.8 volts you may want to increase this in order to get a much higher charge current into your batteries.
The two obvious solutions are to change the alternator to a later model that already charges at a higher voltage, or to fit an external alternator controller.
This may not be necessary. Have a look at the diagram below. This shows the schematic of an internally regulated, N-Type, -VE ground alternator. This diagram covers probably in excess of 99% of alternators currently in use.
The diagram should be self explanatory but if not...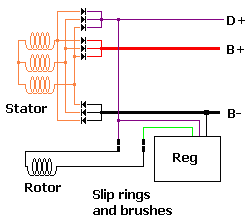 It consists of 3 stator windings. These produce the output current at AC. This is then rectified by the two diode trios connected to the B+ and B- terminals.
The third diode trio produces a DC output at the D+ terminal to operate the warning lamp and also to provide the power to the rotor.
The regulator (Reg) compares the voltage on the D+ terminal with an internal reference and then controls the output voltage (by regulating the current in the rotor which acts as an electromagnet) to maintain the output voltage the same as the internal reference voltage.
Now in many older alternators the reference was set so that the output voltage was held at 13.6 or 13.8 volts. As described elsewhere in this website this is too low.
One way to change this would be to open up the regulator and change the voltage reference or the voltage dividers. This, obviously, is not something most people can do. However there is a much simpler way.